...5 centimeters per second
Do you know
The speed at which cherry blossoms fall?

At what speed must I live
To be able to see you again?
Please vote Kitchen Cow under the Best Food Blog category.
You may vote once every 2 hours so if you have a few minutes to spare, I'll really appreciate it. You'll have to choose a blog under every category before you get to submit your votes but on the bright side, at least you don't have to sign up or anything. Please?
Thank you so very much!

p.s.
I know Pinoys have a tendency to want to know if anybody else from the Philippines made it, so just to answer your question, yes! Eight Filipinos made it, six are local residents while two are expats to Singapore and Australia.
They're
Wifely Steps
for Parenting,
En Route
for Travel,
Jehzlau-Concepts
for Most Influential,
Bryan Boy
for Fashion,
Jim Paredes
for Celebrity,
Octwelve
for Blog Design and
Mr Gadget
for Geek Blog.
Yay! Wonderful news, Kitchen Cow has made it to the finals of Nuffnang's first Asia-Pacific Blog Awards! Nuffnang is a regional blog advertising company, handling bloggers and advertisers in Singapore, Malaysia, Australia and the Philippines. They're holding the awarding ceremony in Singapore so I'm quite excited about getting a chance to go back. But the icing on top of the cake will be taking home the actual award! It's a formal event so I'll be forced into evening wear---I want to make it worth it, at least. So friends, may I have your help?
Two relevant links for Pinoys.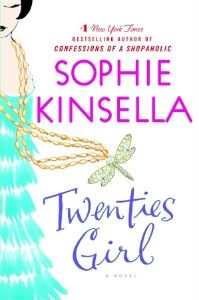 i. 26 books?
Getting there! I just read book 19, Sophie Kinsella's Twenties Girl. It started slow for me. In fact, I felt a bit disappointed because it read like a chick bonding novel rather than the rom-com chick lit Sophie Kinsella's known for. It didn't change, despite the entry of romantic interests, it's still a girly-bonding story at heart. Thankfully, it picked up and I found myself appreciating the story as it unfolded. At some point, I couldn't put it down. Heck, I was crying buckets later on.
Anyway, just
7 books to go.
Manageable, I think. In fact, I think I'll easily go over 26. It's really good that I lowered my goals, especially since I decided to stop counting graphic novels and manga. More manageable methinks, plus, I don't have to feel guilty whenever I reread old books that don't count toward my goal.
ii. on the dollie front
I actually signed up for another round of torture, sleepless nights and desperately racking my brain. Yep, TQ season again. Working on challenge 3 right now. Quite happy with how first two challenges turned out. Even if the second one shocked me because someone else did the exact same film. *headdesk*


Challenge 1: Text
Challenge 2: Design of a Decade
Silent Film Era
iii. waiting for my crops to grow
Addicted to another facebook game, by playfish again, called Country Story. It's Harvest Moon, social networking version. I've tried other farming games on FB, Farm Town in particular, but I ended up quitting since I didn't like the graphics much. But Country Story delivers on the cute factor. Definitely Playfish. So I'm addicted again. *headdesk*
Thankfully, my unfamiliarity with the Tudors didn't mar my enjoyment of the book. In fact, now I want to read up on history, just so I could read more of this. Anyway, The Red Queen's Daughter. It's a re-imagining of Mary Seymour's life---assuming that she lived past two as some historian's claim. This re-telling places her in Elizabeth I's court, as an undercover white magician, pretending to be a Lady-in-Waiting. Due to her pitiful background, as well as her observations from early on, she believes that love is a bane to a woman. She swears never to fall into the trap that ruined her mother and foster mother's life, as well as a lot of women in the court.
Kinda extreme, but hey, still manageable I think. Of course, life never sails smoothly and for our heroine, trouble comes in the form of her cousin, a charming man who persists in courting her. Oh yeah, aside from her vow, there's a teeny tiny glitch. It's just possible that he's a black mage. Drama yes?
Such an enjoyable read. Poignant, yet restrained. The words flow and it's an easy read, despite the setting and subject matter. And while it ends beautifully already, I wouldn't mind reading a sequel. I hope it's in the works, from the author's blog, it sounds like it's a possibility. Here's to hoping there would be one. *crosses fingers*
I'm stupid when it comes to history. I don't even know how I managed to pass my World History course in high school since I'm a total dunce in the field. So yes, I had no idea that the book I picked up two days ago was Historical Fiction.
(
Waheeheeheeheehee.
Collapse
)
More coherent post on
http://www.kitchencow.com
. Once I finally get down from this high.
I can't believe it. It's finally in my hands.


Until I saw the Tokidoki x Onitsuka Tiger Lunetta. Squeeee.

A part of me didn't want to get them because I'd get them dirty so quickly, and they cost so much more than what I'd normally pay for shoes. But I couldn't get them out of my head! Sure sign that I had to have them, yes?

Kitchen Cow.
My fault, really but it was an accident. Cost me two posts but that was easily recreated with the use of google caches. But the awful thing was losing all those comments! And to think one of those posts that died was my
bento giveaway contest post
---the one going 77 comment strong. And those comments were mostly entries to the raffle I'm holding. Gawd. Stupid stupid me.
But at least the site's back up, and it's still early anyway. I'm crossing my fingers that people will want to join again. If they don't, oh well. Nothing I can do about it.
Also on the blog front, my new webhost,
Downtownhost
, is made of awesome. Customer support with them is great. They helped me fix my issues with
Dokidoki Central
in 15 minutes or so. So, that means my dollie blog is back up now. I just faked a "Junpei database crash" to explain why there were no posts for 5 months. It's quite hard to pretend all of them just got busy at the same time. Still wondering how I'm going to treat the storylines but hey, I'll get there. Somehow.
And finally, because I like ending posts with pretty pictures, here's Sam in her new wig. Sam, looking so cute like this, reminds me why she's my grail.
Mercury really must be in retrograde, considering all the technoshit that's happening to me lately. My most recent one was a stupid dbase importation error that screwed up
I luff you, Silas. *huggles*