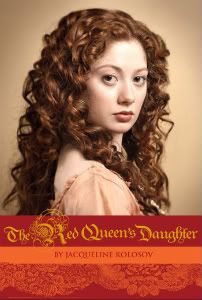 Thankfully, my unfamiliarity with the Tudors didn't mar my enjoyment of the book. In fact, now I want to read up on history, just so I could read more of this. Anyway, The Red Queen's Daughter. It's a re-imagining of Mary Seymour's life---assuming that she lived past two as some historian's claim. This re-telling places her in Elizabeth I's court, as an undercover white magician, pretending to be a Lady-in-Waiting. Due to her pitiful background, as well as her observations from early on, she believes that love is a bane to a woman. She swears never to fall into the trap that ruined her mother and foster mother's life, as well as a lot of women in the court.
Kinda extreme, but hey, still manageable I think. Of course, life never sails smoothly and for our heroine, trouble comes in the form of her cousin, a charming man who persists in courting her. Oh yeah, aside from her vow, there's a teeny tiny glitch. It's just possible that he's a black mage. Drama yes?
Such an enjoyable read. Poignant, yet restrained. The words flow and it's an easy read, despite the setting and subject matter. And while it ends beautifully already, I wouldn't mind reading a sequel. I hope it's in the works, from the author's blog, it sounds like it's a possibility. Here's to hoping there would be one. *crosses fingers*
I'm stupid when it comes to history. I don't even know how I managed to pass my World History course in high school since I'm a total dunce in the field. So yes, I had no idea that the book I picked up two days ago was Historical Fiction.